October 27, 2018
To Local Media
For Immediate Release
Contact: Doug Painter
Painter.doug@yahoo.com
STRIPPERS ARRIVE ON SKIDAWAY ISLAND
OOPS, THAT'S STRIPERS, AS IN FINS, NOT FEATHERS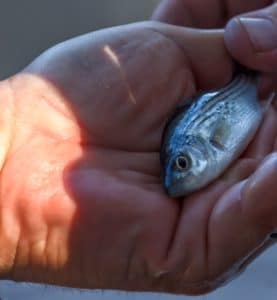 A new show will soon be opening on our island but the only tails that will be shaking in this act are those of one of America's favorite gamefish, the hybrid striped bass. Thanks to the Skidaway Island Chapter of the Coastal conservation Association (CCA) and Jeff Wong, owner of The Omelette House chain, more than 1700 hybrid striped bass fingerlings were released this past week in six of our island lagoons.
A hybrid striped bass, also known as a wiper or whiterock bass, is cross between a female striped bass and a male white bass. While these fish are sterile, they are quick growers and from their current size of a few inches long will, within two years, grow to football shaped speedsters weighing in at four to six pounds. To promote this growth, your island CCA chapter has already stocked designated lagoons with thousands of threadfin shad, a favorite hybrid bass food.
The fish were brought in by a tank truck from a fish hatchery in Arkansas and their release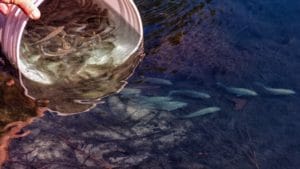 into our lagoons was supervised by the Landings Association environmental manager, Sean Burgess. With each bucketful of fish, Sean added lagoon water to acclimate the fish to the different water temperature. After a few minutes, Sean would tilt the bucket sideways in the water and the fingerlings would eagerly dart out into their new home.
Sean noted that lagoons receiving these hybrid bass were carefully chosen as optimal habitat for these fish. All chosen lagoons, for example, are among the islands largest ensuring cooler water temperatures in the summer. Most all these lagoons are also ones connected to other lagoons, enabling the bass to eventually migrate throughout the system of connected waters.
Hybrid striped bass are known for aggressive feeding habits often schooling in large numbers on the surface to feed on pods of baitfish. These breaking fish are easy to spot and can be caught on a variety of popular lures including casting spoons, buck-tail jigs, soft body fish replicas, and inline spinners.
While this show won't be ready for primetime at least for another year, you can begin your fishing plans by obtaining a copy of CCA's Lagoon Guide which will include information on the six lagoons that have been stocked with hybrid bass. This guide provides data and diagrams on all 150 of our island lagoons and a wealth of information on both the wide range of freshwater and saltwater species that inhabit our island waters. To get your copy, please contact Chuck Smith at chuck.smith60@yahoo.com or call him at 912-598-0518.