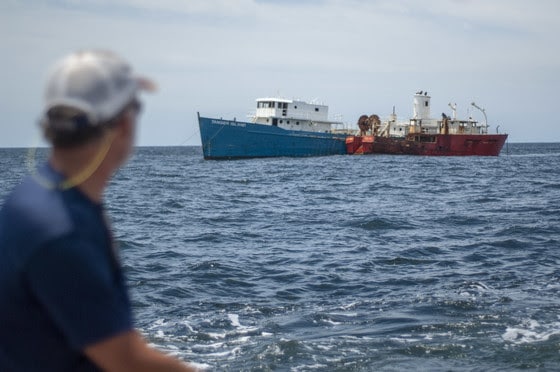 CRD adds two vessels to offshore artificial reefs
Brunswick, Ga. (June 5, 2020)
The Georgia Department of Natural Resources's Coastal Resources Division on June 3, 2020, added two new vessels to artificial reefs about 20 miles offshore of St. Catherines Island.
(Click here for a video.)
Sales of the "Support Fish Habitat" license plate funded the project, along with the Coastal Conservation Association of Georgia.
"These vessels will provide essential fish habitat off Georgia's coast and will eventually become populated with corals, sponges and other marine life," said Paul Medders, the Artificial Reef, Habitat Enhancement and Boating Access leader for DNR's Coastal Resources Division . "In about two years, these reefs will become prime fishing spots for offshore anglers, as well as a unique place for SCUBA divers to visit."
The first vessel, an 82-foot shrimp trawl named the Frank and Marie, sank at reef CCA-JL 22 nautical miles east of St. Catherines Island. It rested on the seafloor at 2:40 p.m. in about 64 feet of water. The Frank and Marie joins New York City subway cars, steel structures and other materials at reef CCA-JL.
The second vessel, the 180-foot Tangiers Island, sank in 70 feet of water at 9:40 p.m. about 200 feet from a similarly sized former Coast Guard buoy tender placed there in 1989.
All materials placed in reefs are meticulously cleaned and prepared prior to their sinking, and placement of reef materials is permitted by the U.S. Army Corps of Engineers to ensure navigation safety.
Artificial reefs are beneficial off Georgia's coast due to the state's unique geology. The Georgia Bight extends from Cape Canaveral, Fla., to Cape Hatteras, N.C., and concaves inward from the Atlantic Ocean along Georgia's coast.
The resulting geologic features include a vast, shallow slope that extends about 80 miles offshore to the continental shelf. This gentle slope is largely flat, sandy material with very few natural rock outcroppings that would normally be home to reefs.
To provide opportunities for reef growth, CRD has created more than two dozen artificial reef areas, each of which includes multiple sites within reefs. These artificial materials – whether a vessel, tank or concrete rubble – provide living organisms the surface and shelter they need to thrive in Georgia's marine environment. While the substrate is artificial, the ensuing reef growth is completely natural.
"Without these artificial materials, we would not have significant reef growth in Georgia," Medders said. "DNR has been placing these materials since the 1970s, and over time, we have built up an impressive array of artificial habitats for scores of species."
Numerous recreationally and commercially important fish species congregate along reefs in the middle of the continental shelf, including snapper, grouper and black sea bass.
Likewise, migratory fish pass through these waters, including Spanish mackerel, king mackerel, cobia and wahoo. Artificial reefs also provide shelter for endangered loggerhead sea turtles, which use the reefs to find refuge from predators like sharks.